Join President Thompson and special guests for inspired conversations around the tremendous things that Wentworth is doing and planning for the future. Roadshow events include a Q&A session with the Mark, as well as networking opportunities and more. Find out why so many believe in the power of a Wentworth education.  
#WentworthBeliever
Do You Believe?
Inspired Conversations with Wentworth President Mark A. Thompson
January 26th - Naples, FL
March 7th - New York, NY
April 2nd-7th - Northern California
May 20th - Wentworth Institute of Technology
September - Connecticut
October - Maine, New Hampshire & Vermont
Interested in participating? Please connect with universityevents@wit.edu, 617-989-4670.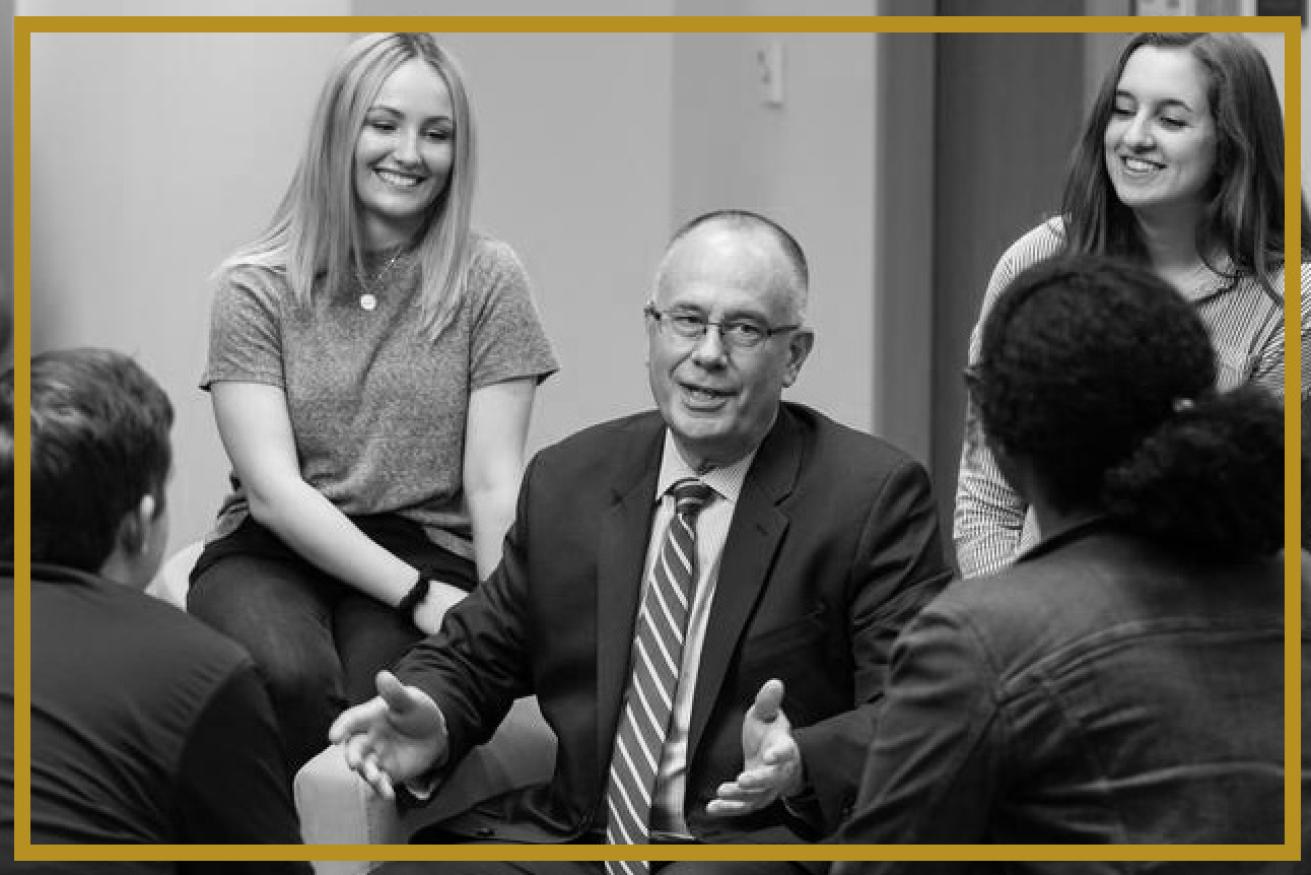 Jadon Watson
When Professor Yetunde Folajimi announced the assignment—create an app that illustrates everything you've learned so far in Computer Science—Jadon Watson, Cybersecurity '24, immediately thought about the pandemic. How could he use this opportunity to make something other than the usual game app?  
"[I thought] 'why do something silly when I can do something amazing, something meaningful'?" Watson said. He decided on a social distancing app, recruited classmate Kyle Meade '24, and the two pooled their know-how. The project was deeply complex, but in the end, it worked exactly as he had envisioned it.  
"For me—somebody who likes to make things happen—Wentworth has been a dream school." 
Jennifer Kosses
Jenn Kosses was named Wentworth Institute of Technology's Dean of Students in 2022 and always makes herself readily available to students.  
"There is nothing better than engaging in a conversation with a Wentworth student about their goals for the future and knowing they have the drive to achieve those goals," she said. 
In her role, Kosses provides support and advocacy for all students in a variety of ways, including as the chair of the CARE Team and the Behavioral Intervention Team. She oversees the areas of student conduct, commuter and residential life, student engagement, student support, transition programs, family engagement, and graduate student life. 
Kosses has been a part of the Wentworth community since 2008 and formerly served as assistant dean of students. Prior to that, she worked in several roles within the functional are of Residence Life at a variety of institutions. She has also been a leader in NASPA (National Association of Student Personnel Administrators), serving in multiple capacities at the regional level, including co-founding the New Professional Mentoring Institute. 
"For 15 years I have seen first-hand the commitment and passion Wentworth students have for their academics and fields of study." 
Sabrina Lorica
Growing up, Sabrina Lorica, M. Arch. '22, was obsessed with treehouses. That passion convinced her that architecture was her true calling. When the time came for college, she decided to study in Boston, a city known for its iconic architecture. Of all the schools in the area, she chose Wentworth for its co-ops and for its 4+1 program—an undergraduate and a graduate degree earned in five years. One of her co-ops? Designing treehouses in Colorado, where she worked with one of the country's most talented treehouse architects.  
"I mentioned to Michael Mozill, my Business professor, that a major treehouse company was hiring," Lorica shared. "He said, 'Hang up and call them now!' I ended up spending several months working with some of the most talented names in treehouse design. I was star struck but also learned so much about the process of architecture." 
Though she has since moved on to buildings of a grander scale and an internship with a prominent architectural firm, she will never forget her first love. 
Sophia Maggelakis
Senior Vice President for Academic Affairs and Provost
Sophia Maggelakis wants to foster a love for life-long learning and an appreciation for the value and transformative power of education.  
"I view education as the most precious gift we can offer to our society," Maggelakis said. "[It is] an incubator for new knowledge and discoveries, and a catalyst for economic development and a healthy society." 
Maggelakis, who earned a Ph.D. and M.S. in Computational and Applied Mathematics and B.S. in Mathematics from Old Dominion University, comes to Wentworth Institute of Technology from Rochester Institute of Technology (RIT). In addition to founding and serving as the head of RIT's School of Mathematical Sciences, she served as dean of the College of Science from 2010 until her appointment at Wentworth in August 2022. 
As Wentworth's Senior Vice President for Academic Affairs and Provost, Maggelakis looking forward to building on Wentworth's existing strengths—student-centered education, dedicated faculty, and a high return on investment and alumni earning power—while identifying strategic areas of growth. 
Today, society is faced with skill gaps in key fields that make up the fabric of Wentworth's academic portfolio. The university's portfolio of programs, Maggalakis believes, prepare students to respond to the current skill gap and position them to become future leaders. 
"Wentworth is well-positioned for greatness," she shared, "and to address the needs of a fast-changing society and industry. I feel honored and privileged to be a part of Wentworth's professional family."